Affiliate Program Basics
Affiliate Program Basics
By Albert Hallado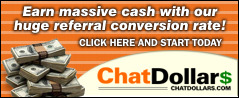 Affiliate Program is a ground floor opportunity. All you have to do is send visitors
to your affiliate web site by placing a textlink or banner on your website and receive a commission on each sale, without the complication and expense of selling
anything yourself.

Instead, you earn a commission for producing a transaction. Affiliate programs, also
known as Referral Programs, Associate Programs, Profit Sharing Programs or
Reseller programs, give affiliates the ability to create an online business selling
thousands products and services.

One of the first affiliate programs was run by the mega- bookstore, Amazon.com.
They still have the largest base of affiliates on the net although they may not be
the best affiliate program for many! with over 600,000 web sites being affiliated.

Affiliate programs are generally offered by sites selling goods or services, although
some affiliate programs reward other types of transaction such as getting a visitor
to sign up for a free newsletter, or a download.

Some affiliate programs pay per lead rather than per sale, in other words, you
bring them a prospective customer and they pay a fixed "finder's fee" for the
chance to market to that customer.

This is a typical arrangement for affiliate programs in the insurance, real estate
and credit card industries, for example:

Types of Affiliate Programs

Pay per sale: If you refer a visitor to the online merchant's site and if visitor makes
a purchase you get a percentage of the sale as commission.

Pay per lead: You get paid a one-time fee for generating a lead for the merchant.
Usually you get paid $2-$5 if the visitor you referred fills out an application.

Pay per click: You get paid for every visitor you send to the online merchant
regardless of any sale or purchase. Usually companies pay $0.05 - $0.15
per click.

Two-Tier: You get commission on direct sales you generate and also you get
commission on sales generated by affiliates you recruited. Usually companies
pay 25% commission for direct sales and 5% for sales generated by your affiliates.

Bounty: You get a one-time finder's fee payment for the visitor you referred. You
will not get commission on any future purchases that customer makes.

The Benefit of an Affiliate Program

Is that you just need to drive traffic to your affiliate site. Write a few
articles and provide a few links.

You don't need to find or deal with brokers, wholesalers, inventory,
process orders, shipping & handling, customer service, tech support,
handle returns, warranties, employees, etc-

An affiliate doesn't even have to be present, your site will keep earning
money while you're sick, on vacation, or just doing something else.

Another advantage of being an affiliate, is that you do it from almost
anywhere in the world..

How The System Works?

When you join an affiliate program, you will be given a specially formatted
URL (Links) that you should use to link to the affiliate provider's site.

This will enable the affiliate provider to monitor traffic to your site and pay
according to the type of affiliate program.

Many affiliate programs pay a commission based on a percentage of the
revenue generated by purchases made by visitors coming from your website.

For example; if you're participating in an affiliate program that
offers a 25% commission and you

send a visitor who purchases US$100 worth of products, you've just
earned US$25 in commissions.

The commission rate itself can vary from 20% up- to 50%+ in the case of
intangible products such as eBooks or website subscriptions.

Affiliate programs vary widely in terms of overall quality, reliability, commission,
statistics, the amount of help that the merchant site offers in marketing the
products or services it sells, and so on.

By thoroughly understanding an affiliate program, you'll minimize the risk of
not getting paid - and maximize your potential earnings.

About the Author

Albert Hallado Owner of
www.netbizreview.com. (Guide To Internet Based Business)
Albert is known for interviewing online business experts and Helping Entrepreneurs
Doing Business On The Internet.